Sapa Tours
Sapa Tours – Sapa is located in the Northern of Vietnam. The mountainous region of Sapa – although remote, and remote region is famous for its rice terraces, its breathtaking mountain scenery, its biological variety and also the Vietnamese ethnic groups that inhabit the mountain from Sapa region.
.
1. Fan Si Pan Mountain
Fan Si Pan Mountain is one of place for Sapa Tours claimed as the most prominent attraction in Sapa. It is the highest mountain in Vietnam with a height of 3, 143m. Here habitats diverse set of faunal species and floral varieties. A 19km from Sapa town, which may seem like a short distance. But it is not that easy to trek to there with rough terrain and changeable weather condition. It seems that the tour to Fan Si Pan is meant to those who are fit and have mountain climbing experience. But it is really a good place to explore.
The best time to have tour to this mountain is from mid-October to mid-November and again in March. During October to November, rains are not happen regularly and during March, it is not cold and the flowers all flourish.
2. Cat Cat Village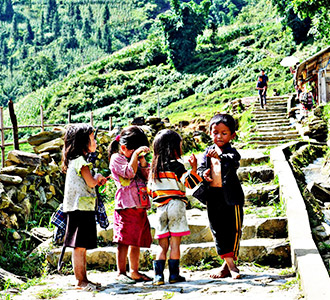 Cat Cat Village is 2nd tourist place for Sapa tours, it's located in the beautiful Muong Hoa Valley, about 3km from Sapa Town and a 45-minute walk. It is easy to access with road growing with rice field and corn. Here lives some ethnic families, especially Black H'Mong. Tourists come here will be impressed by the tranquilly picturesque natural sceneries and the traditional handicrafts like twisting flax and weaving fabric.
You may catch a sight of women sitting in front of the loom with colorful pieces of brocade, and sight of kids playing with pets and livestocks. Visting such a ethnic village, tourists can have a chance to discover the daily life of ethnic people, and a chance to participate in the traditional activities.
3. Bac Ha Market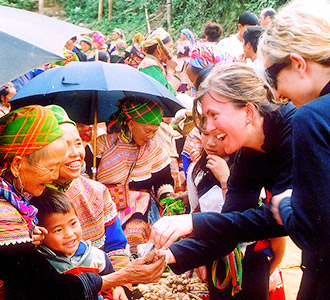 Bac Ha Market is 3rd tourist places for Sapa tours. Located in 80km from Sapa, Bac Ha Market is a market for minority people. Its Sunday Market is a trading center to buy and sell and a meeting place for local to gather together with friends and relatives. Visitors come here and will see a world full of colors. It will take much time for local ethnic people to get here, which will not be a problem for them to join the Sunday colorful market.
On the market days, all the roads and the trading area are full of people and horses with products bought and to sell. The main trading center will be divided into smaller district to specializing in particular product, which makes it easy to find things they want to buy
Social Share